First, some funny stuff. Bill Crozier is a Republican challenging a Democratic superintendent of education in Oklahoma. He has a plan, a plan to put great thick textbooks under the desks of students. That way, if there's a school shooting, the kids will have something to use as shields. To prove the effectiveness of this plan, he's shot a video of himself shooting textbooks with an assortment of guns.
It's an amazing video
. When asked about his plan, Crozier pointedly noted:
"We need to look at protection of young people that sometimes people may think you are a little smarter than everybody else or a higher IQ or whatever. They need to look at what the end result would be."
What man could be more qualified to be superintendent of education?
Second, some scary stuff. The
current RNC ad
has two points to it. First, Osama's going to strike again, and it's going to be worse than 9/11. Second, vote. Now, how these two parts equal "vote Republican" is a bit of a mystery. I mean, George Bush has famously said about Bin Laden "
I truly am not that concerned about him
." But I get where they're going with it, and it is one scary, scary commercial. Good timing for Halloween, I think.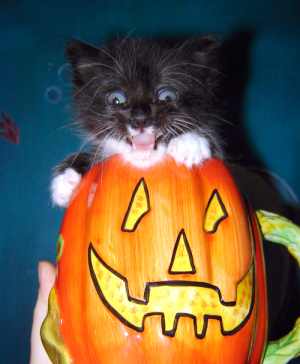 Boo! Vote Republican.