The following is the very unexpected front page of the Tom DeLay legal defense
website
: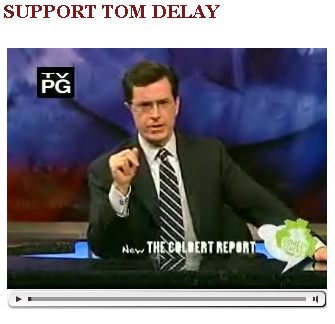 Yup, the site, which is a legitimate pro-DeLay site, has posted a clip from The Colbert Report on their front page. In it, Colbert interviews the maker* of a documentary about Tom DeLay - an
unflattering
documentary. As detailed in
this Think Progress article
, DeLay's legal defense fund is promoting this interview as they feel that it paints the filmmaker in a negative light.
It's not really clear whether the DeLay folks understand that Colbert's performance is a satire of a right wing pundit, or even if they care. But there's the suggestion that
they just don't get it
, which, as you can see from the Think Progress comments, is enough for some people to go nuts.
*Robert Greenwald, same guy who did the snooze-fest Outfoxed, about Fox News.