while it
could have been just an OMFG! FATTIE! joke,* I think that the drawings cover a surprisingly wide range of attitudes. I particularly like the
most recent post
of guest sketches.** Some of the WWs are quite pretty in a sweeping geometric way, like the lady I've shown down below. Also good is the Marcos Perez smoking WW. I think that the artist's love of the subject is evident, and it's cool because she's not drawn as grotesquely obese, but really quite normal. I think that's a really cool thing to do with the Wonder Woman character, who's usually a pinup type.
Wonder Woman, after all, was
created
by a guy who said, "Give them an alluring woman stronger than themselves to submit to, and they'll be proud to become her willing slaves!" William Moulton Marston had a definite sexual agenda in the creation of the comic. The title's early days had a heavy bondage fantasy element: Wonder Woman had a golden lasso, which forced you to tell the truth if it tied you up. And if bound by a man, Wonder Woman lost her powers.
Comics 101 covered WW's history in a two-parter:
one
and
two
. It's a fun read. The Marston spin on his creation was, not unlike Buffy, about creating strong and powerful female characters. And, like Buffy, there's a certain "Spank me, mommy!" element to it all.
Which brings me back to the blog. What I really like about it is that WW's an iconic figure, but with some rigid limits to how she can be portrayed - specifically, svelte and athletic. And the artists change that one fixed aspect of her character, and still present a wide variety of interpretations of the character. That is, while WW is still a heroic ideal, she becomes much more varied and more human. There's less arbitrary rigidity about ideals, and WW becomes less a character which presents a fantasy object. Because cartoons like this: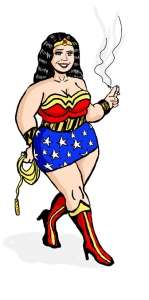 portray normal human beings. And that's cool. And it's more essentially feminist than anything Marston understood.
Or I'm wrong and it's all a big OMFG! FATTIE! joke.
*And some of them, to be sure, are. What can I say? Humor is about the base and ugly, not the beautiful.
**Yes, the pencil sketch is a bit dodgy, but the rest is quality!