My oh my has it been moist here lately. In addition to the rains, the humidity is quite palpable. When I touch my couch, it feels like I spilled water on it an hour ago. Papers lie limp and soggy. I had left a book lying on the floor, and yesterday looked down to discover that the cover had curled up.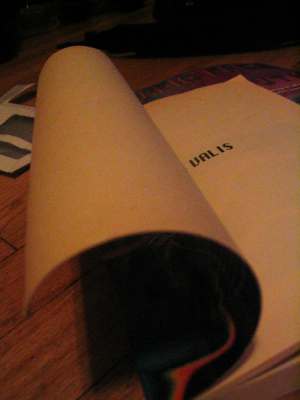 I looked up and then settled down on my soggy sofa to watch the Matrix. Suddenly, though, the television screen began to display bizarre new images. Instead of turgid Larry Fishburne, I became lost in an ever-changing array of abstract paintings filled with ancient forgotten meaning. This phosphene pattern then converged into a bright fuchsia light which beamed into and excited directly my mind, causing it to vibrate with music - in fact it was the Stone Roses' song "I am the Resurrection." I sensed that some foreign (possibly Russian, possibly extraterrestrial, certainly gnostic) machine intelligence was warning me that I was in great danger. The RIAA would soon send its goons to my house to beat me up because of the unauthorized copying. I know this for certain because...because...
I INFORMED ON MYSELF!